Career Coaching | Leadership Coaching | Personal Coaching | Facilitator
Lenore Mewton, M.S.W. loves to work with people. She believes that we all have potential and resources within ourselves that hold many of the answers to the challenges we face in life, whether that be in our work, seeking new career opportunities, personal experiences or within organizations. Lenore has worked with individuals (adults and emerging adults), teams, groups and organizations throughout her professional life. With certifications in career coaching and assessments, a degree in human behavior, consultant, and facilitator, she blends the best of her backgrounds working with clients creating solutions proven to make a lasting difference. Lenore's passion is building a foundation of learning with each client — developing essential tools for inner knowledge, awareness of their current and/or future environments, and strategies to expand opportunities. She is acknowledged by colleagues for outstanding thought leadership and by clients for depth of knowledge and a keen ability to listen 'between the lines' to client's needs and wants.
"Before I can tell my life what I want to do with it, I must listen to my life telling me who I am" — Parker J. Palmer
For more information on Lenore's coaching packages and services, contact her at lenore@lenoremewton.com.
While Lenore's new web site is underway, she invites you to connect (email, Linkedin, Facebook, Twitter) and welcomes the opportunity to meet you!
Free coaching session with purchase of job search tips eBook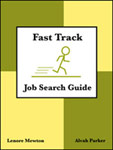 Lenore Mewton and Alvah Parker are pleased to announce the release of their new job search e-Book, Fast Track Job Search Guide. The 52 page eBook is chock full of useful job search tips in a bullet point format. It's easy to read so the job seeker can spend time on the job search not just reading about it! The job search tips in this eBook are appropriate for those employed as well as those in transition. With this eBook you'll get:
* A Career Fitness Assessment
* Templates for a resume, marketing plan, and career commercial
* Ongoing career management tips
* Specific formats for cover letters and thank you notes
Included with your purchase of the Fast Track Job Search Guide eBook, is a 45 minute free coaching session with either Lenore or Alvah. Be sure to go to Fast Track Success Tips to read more about the eBook and to order your copy.